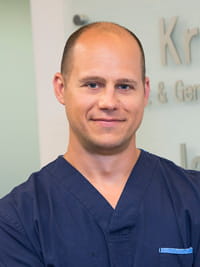 General, Implant & Cosmetic Dentistry
T. 250 960 3809
W. www.lakewooddental.ca
E. dr.pastro@lakewooddental.ca
Dental Treatment Services
Dr. Pastro and his team offer the following dental treatment services:
New Patient Exams
Hygiene Cleanings
Restorations (White Ceramic, Metal-Ceramic and Full Gold)
Inlays, onlays, full crowns and bridges
Comprehensive "full mouth" Rehabilitation.
Oral Surgery and Exodontia
Basic extractions
Complex surgical extractions
3rd molar extractions (wisdom teeth)
Biopsies
Endodontics (root canals)
Cosmetic Dentistry
Veneers
Tooth whitening (internal and external "bleaching")
Bruxism splints (night guards)
Dental Implants
Single tooth, multi-tooth and implant supported bridge replacement of missing teeth
Implant-retained complete and partial dentures
Implant-bar-supported complete dentures
Education & Background
Dr. Kris Pastro was born and raised in Prince George. Following high school he attended the University of British Columbia (1990-1995) where he completed his B.A.Sc. in Mechanical Engineering. He returned to the University of British Columbia (1996-2001) where he completed his DMD in the Faculty of Dentistry. Prior to graduation in dentistry, in the summer of 2000 Dr. Pastro completed an externship at the University of Texas Health Science Center, San Antonio in the departments of Oral and Maxillofacial Surgery and Anesthesia. Upon graduation, he returned home to Prince George where he began as an Associate Dentist with his family dentist from childhood, Dr. Michael Rivera at the Lakewood Dental Group. Dr. Pastro eventually took over for Dr. Rivera in 2003 and continues to maintain his practice of general dentistry at the Lakewood Dental Group. Dr. Pastro has continued to pursue his education in all aspects of dentistry, with a specific focus on Implant Dentistry. He is a member of the Canadian Dental Association, the College of Dental Surgeons of British Columbia, the British Columbia Dental Association, and serves as Treasurer of the Prince George and District Dental Society. He is also a member of the International Congress of Oral Implantologists, the American Academy of Osseointegration and is an Associate Fellow with the American Academy of Implant Dentistry. Dr. Pastro is a past member of the College of New Caledonia Advisory Board and maintains hospital privilege at the University Hospital of Northern British Columbia.
Treatment Philosophy
Dr. Kris Pastro believes in providing the highest standard of care to his patients and values and promotes both their oral health and overall well-being. He and his dental team strive to provide state-of-the-art technology, procedures, and dental materials to administer the best quality treatment to their patients in the most safe and ethical manner possible. Dr. Pastro's focus is on functional rehabilitation, esthetics and improved overall dental health, maintained for a lifetime. All treatment is comprehensive and is tailored to the specific needs of each individual. Dr. Pastro's dental team is committed to providing the best possible dental care to their patients in a professional, caring, and compassionate manner.
---